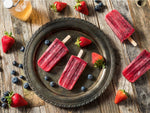 Our ice cream , which is a combination of sweet and sour, will quench your thirst and refresh you during the hot summer!
Technically , any tea or infusion can be used to make delicious ice cream , but our blend from the Cold Brew collection will provide you with a completely different type of taste experience. The dried fruit we chose for this recipe combines our two favorite summer flavors - pomegranate and blueberry.
What ingredients are needed to make ice cream?
4 - 6 Basilur Cold Brew Pomegranate Blueberry tea bags
2 cups of cold water
Juice of half a lemon (optional)
3 tablespoons of white sugar or other sweetener
A handful of berries
How to make ice cream with Basilur Pomegranate Blueberry tea?
Start by brewing some tea . Pour cold water over the bags.
Prepare ice cream molds .
Once it has steeped sufficiently , add lemon juice and sugar to the tea . Do this at your discretion, remembering that the flavors will become less intense when frozen.
Cut the berries (preferably in half).
Add them to the brewed infusion .
Pour the tea into ice cream molds . Place them in the freezer and after an hour put the sticks into the molds.
Place the molds back in the freezer and leave them there overnight.
What is worth remembering?
To easily remove the ice cream from the molds, immerse them for a moment under a stream of warm water . Not for long, lest they melt.
If you want slushy , don't freeze the popsicles all the way through.
This was a simple and fun recipe, right? You only need four ingredients , which you probably have in your kitchen. Remember, however, that preparing ice cream takes time , so prepare it the day before!