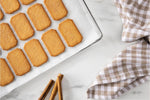 Fall is the time of year that most of us associate with pumpkin spice , cinnamon , apple cider , and soft and warm sweaters . This is also the perfect time to enjoy cookies , which are crisp on the outside and have spicy accents.
What is needed to bake shortbread cookies?
2½ cups of flour
1 cup of soft butter
½ cup of brown sugar
½ cup of granulated white sugar
3 teaspoons of ground cinnamon
Pinch of salt
How to bake cinnamon shortbread cookies?
Sugar mixture:
Pour 2 teaspoons of ground cinnamon and ½ cup of white sugar into a bowl.
Mix thoroughly and set the bowl aside.
Cake:
In a separate bowl , mix flour , 1 teaspoon of ground cinnamon and salt. Put it aside.
In another bowl , cream the butter and sugar . Set the mixer to medium or high speed and mix for 3-4 minutes until you get a soft cream.
Gradually add the flour and spice mixture and mix thoroughly until all ingredients are combined.
Transfer the dough and start kneading it gently.
Wrap the dough in foil and put it in the fridge for no longer than an hour.
Preheat the oven to 160°.
Line a baking tray with baking paper.
Take the dough out of the fridge and sprinkle the countertop with flour.
Roll out the dough to ¼ thickness and cut out the cookie shape using a cookie cutter.
Lightly coat the cut cookies in the cinnamon sugar mixture and place them on a baking tray.
Put it in the oven and bake for about 15 minutes.
Preparing the cake for baking is pleasant and does not require much effort.
Be sure to try these autumn baked goods with a cup of aromatic tea!