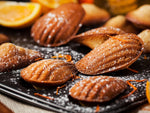 Madeleines are small French cakes with a characteristic shell shape. These baked goods have been an addition to tea for centuries. We decided to add a citrus twist to their recipe with our Citrus Bliss tea from the Vintage Blossoms collection.
What ingredients do you need to bake madeleines?
Madeleine cake:
10 tablespoons of butter
2 eggs
½ cup of granulated sugar
1 teaspoon of vanilla extract
½ teaspoon of orange extract
1 tablespoon of orange peel (finely grated)
1 cup of flour
⅛ teaspoon of salt
½ teaspoon of baking powder
Icing:
2-3 tablespoons of Basilur Citrus Bliss (brewed and cooled)
¾ cup of powdered sugar
How to bake madeleine cookies?
Preheat the oven to approximately 175°C.
Put 8 tablespoons of butter into the pot . Keep over medium heat until the butter melts , then set aside to cool.
Beat the eggs with sugar until light in color. Add vanilla and orange extract , orange zest and beat again until smooth and fluffy.
In a separate bowl , mix flour, salt and baking powder . Mix them well so as not to leave any lumps.
Add half of the flour, salt and baking powder mixture to the beaten egg mixture and use a rubber spatula to carefully mix the ingredients . Then repeat the process with the remaining flour mixture.
Pour the melted butter into the flour and egg mixture . Mix until everything is combined.
Melt the remaining 2 tablespoons of butter , then spread it on the madeleine tray .
Using a spoon , spread the dough into shell-shaped molds . With this amount of ingredients you should get about 12 madeleines.
Bake the cookies for about 10-15 minutes . The toothpick should be dry when removed from the cake.
Leave the baked goods to cool for 5-10 minutes , then carefully remove them and leave them to cool completely again.
Then mix powdered sugar with 2 tablespoons of brewed tea . If the consistency is dry and lumpy, add more tea.
Pour the icing over the madeleines and enjoy their taste!