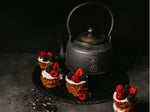 If you are a tea lover, these cookies will surely delight your taste buds! They are a great addition to afternoon tea or Sunday brunch .
Our favorite cookies are made with Earl Gray tea . The mixture is perfect for baking due to its rich flavor notes . It combines sweetness with tartness , which is crowned with the citrus flavor of begamot oil.
Here is our proven recipe for rich, buttery and aromatic tea cakes!
How to prepare a mixture of milk and Earl Gray tea?
The basis of the recipe is to combine milk with Earl Gray. Here are the ingredients and the process of preparing it.
1 ½ cups of milk
1 tablespoon of loose leaf Earl Gray tea
Boil the tea and milk in a small pot over medium to high heat. When the milk starts to boil, turn off the heat and leave for 10 minutes to let the tea leaves soak. Then strain the mixture into one cup. Top up with more milk if necessary.
What ingredients are needed to prepare the cake?
2 ¼ cups of flour
1 tablespoon of finely ground Earl Gray tea
3 large eggs at room temperature
2 tablespoons of baking powder
¾ cup unsalted butter at room temperature
¾ tablespoon of salt
1 ½ cups of powdered sugar
1 ½ tablespoons of vanilla extract
1 cup of room temperature Earl Gray tea mixture
What is the process of baking tea cakes?
Preheat the oven to 177°C.
Grease and flour three 15 cm cake tins , then line them with parchment paper.
Mix the flour, baking powder, salt and tea, then set the mixture aside.
Cream the butter and sugar in a mixer until the mixture becomes light yellow and fluffy. Then reduce the speed of the mixer and add the eggs one at a time . Once you've combined these ingredients, add the vanilla.

Then alternately add the dry ingredient mixture and the Earl Gray milk , starting and ending with the dry ingredients (preferably three portions of dry ingredients and 2 portions of milk). After each addition, remember to mix all the ingredients of the mixture.
Pour the resulting mixture evenly into 3 molds. Place them in the oven and bake for 35 minutes . Insert a toothpick and see if it comes out almost clean. If not, bake another 5 minutes.
Once the time is up, cool the trays on a wire rack for 10 minutes , then place the cookies on a wire rack and let them cool completely.