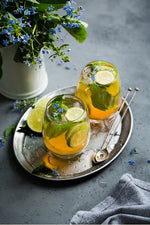 If you are a tea lover, you must try this wonderfully refreshing infusion!
It is very easy to do , requires little effort and provides good hydration on hot days.
A glass of iced tea with lots of ice cubes, mint leaves and honey is the perfect drink to sip with family and friends. Is there anything better than delicious tea that you can sip on a warm day, sitting on the porch with your loved ones?
The best part is that it only contains three ingredients! The preparation process is simple , pleasant and takes less than 20 minutes.
Ingredients:
5 bags of green tea (we recommend Basilur Moroccan Mint tea)
8 cups of boiling water
10-15 fresh mint leaves
1 tablespoon of honey
Ice cubes
How to prepare iced tea with mint?
Place the tea bags in hot water and leave for 5-7 minutes. The longer the better, because we want to obtain a strong infusion . You can do this in a large, heat-resistant jar. Cut off the tags, thread them and put the tea bags in it.
After brewing, remove the tea bags and add mint leaves . Leave them for 5-10 minutes to soak well.
You can strain the mint leaves or leave them .
Add honey and ice cubes . Put as many of them in glasses as possible because we want a chilled drink.
Pour the tea into glasses and enjoy its refreshing taste!
We advised you to prepare a strong infusion because melted ice cubes dilute the essence, thus reducing the intensity of the flavor!