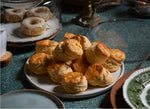 Are you ready to host an afternoon tea with your family and friends? We are here to make your party even more special! And it's all thanks to a classic English delicacy that can be prepared in less than an hour.
No tea party is complete without delicious butter cookies!
Let's get baking!
What do you need to bake butter cookies?
2 cups or 300 g plain flour (plus extra for dusting the baking tray)
3 teaspoons of baking powder
2 tablespoons of maple syrup
1 cup or 250 ml buttermilk (plus extra for brushing on top of the buns)
How to bake cookies?
Preheat the oven to 180°C.
Sprinkle the baking tray with flour and set it aside.
Then sift the flour and baking powder well to mix well.
Pour the flour mixture into a bowl and add salt .
In a separate bowl , mix the buttermilk and maple syrup .
Combine flour mixture with buttermilk mixture. Mix them well.
Sprinkle the counter with flour and transfer the dough onto it.
Knead it for about 10-15 minutes or until it is very smooth .
Then flatten them to a thickness of about 5 centimeters and cut them into 8 pieces .
Place them on the prepared baking tray so that each piece has room to rise.
Brush them with buttermilk .
Place the tray in the oven and bake for 10-12 minutes or until they rise and turn golden brown.
You can spread these delicious cookies with jam and butter!
They will be the perfect snack during your tea party. We guarantee that your guests will be delighted with them!
Serve them as an addition to English Afternoon tea from the Specialty Classic collection. The deep and rich taste of this classic infusion goes perfectly with the light , buttery taste of cookies !