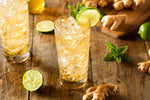 Ginger has a wide range of uses. It is used, among others , in cooking and as an addition to teas . But it is also used in traditional medicine for its numerous health benefits that never cease to amaze us.
With summer fast approaching, it's good to have an iced tea recipe on hand. Today we will share one with him . Thanks to it, you will be able to quench your thirst on a hot day!
What ingredients are needed to brew ginger tea?
1 teaspoon of Basilur loose leaf tea with ginger
1 cup of water
1 tablespoon of honey
2 - 3 lemon slices
Ice cubes
How to prepare ginger tea?
Boil water in a pot over medium heat.
When it starts to boil, reduce the heat and add the tea leaves . Cook over low heat for about 5-7 minutes.
Remove the pot from the heat.
Add lemon slices to it. Mix well and set aside for about 5 minutes.
Strain and pour the brewed tea into a glass.
Add honey and mix well.
Finally , add ice cubes and enjoy the chilled version of ginger infusion!
This recipe is based on Basilur Ginger infusion from the Magic Fruits collection. The bitter-spicy aftertaste and aromatic scent of the spice make our bodies feel pleasantly refreshed after each sip!
If you need an energy boost and want a spicy and intense flavor, try our chilled ginger tea!