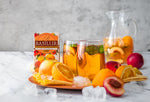 Summer is in full swing and with it comes the heat. Do you know a better way to quench your thirst and cool down than with a glass of refreshing tea? At Basilur Tea, we offer you the best blends that will delight your taste buds ! Join our tea family and check out our best summer teas , which have been carefully developed to give you the opportunity to prepare them in an iced version.
Lemon & Lime from the Magic Fruits collection
Lemon & Lime from the Magic Fruits collection is tea sent straight from heaven! It perfectly combines the taste of black Ceylon tea with the tart aftertaste of lemon and lime . This tea provides a wonderful experience thanks to its light and citrus accents . The intense flavor and aroma remain on the palate for a long time. It's the perfect companion on a lazy summer afternoon!
Pomegranate Blueberry from the Cold Brew collection
Are you looking for a refreshing tea that will hydrate you? Pomegranate Bluberry from the Cold Brew collection will meet your expectations. This amazing blend combines the tartness and sweetness of pomegranate with the subtle and fruity notes of berries . After brewing it, you get a bright infusion with a fresh aroma and juicy taste in the cup. Pour cold or chilled water over the tea, leave to brew and enjoy every sip of this refreshing infusion!
Pink Tea Assorted
This is our latest version of Basilur teas ! The Pink Tea collection includes exquisite blends that consist of pure teas with the addition of surprising sweets . The set includes mixtures: Candy Floss, Cherry Ice-cream, Marshmallow and Forest Gateau. It's a real delight. All of them will provide you with unforgettable taste experiences !
Indian Summer from the Fruit Infusions collection
When temperatures outside rise dramatically, reach for our Indian Summer infusion from the Fruit Infusions collection. We guarantee that after drinking it, you will experience wonderful refreshment and hydrate your body ! The tea is a mixture of dried fruits and flowers that will make you feel light and relaxed . Brew it in a tall glass with ice and revive your senses tired of the heat!
Blood Orange from the Fruit Infusions collection
Immerse yourself in the benefits of Blood Orange infusion from the Fruit Infusions collection! Provide your body with essential vitamins and antioxidants . The flavor and aroma of orange come to the fore in the mixture. It will delight you with its tartness ! This is the perfect choice when you want to free yourself from excessive heat and feel refreshed.
White Tea Assorted
If you are looking for luxurious and refined teas , be sure to try the blends from the White Tea collection. Each of them has been carefully composed and exquisitely combined with fruit aromas . These flavor combinations will remain in your memory for a long time! The set includes teas - Forest Fruit, Peach Rose, Mango Orange, Strawberry Vanilla.
At Basilur Tea , we understand that iced teas are not only meant to refresh , but also delight with their unique flavors and aromas . So, choose one of the above-mentioned mixtures , prepare an iced infusion and sip it , enjoying a pleasant cooling effect!