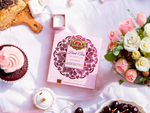 We are honored to present our latest collection of pink teas, Basilur Pink Tea , in which pure elegance combines with bold notes of sweetness ! This one-of-a-kind set has been created with great care to take you on a journey full of refined compositions that will delight your senses.
Sip these extraordinary teas like a true queen!
Get the Pink Tea set and charm your guests with four unique tea flavors:
Candy Floss
Cherry Ice Cream
Marshmallow
Forest Gateau
Candy Floss
This magical green tea will take you back to pleasant and loving memories ! After brewing, it acquires a beautiful pink shade and a floral aroma that will surely delight your senses . The tea has notes of cotton candy . Its delightful sweetness was sent to all dreamers and sweet lovers !
Cherry Ice Cream
Tea is perfect for celebrating and celebrating memorable events! After brewing, the mixture turns pink and emits a seductive scent of cherries and flowers . The captivating taste of sweet cherry ice cream will awaken the romantic soul in you!
Marshmallow
This infusion is as soft and sweet in taste as real marshmallows ! The tea is pink in color , permeated with the wonderful aroma of flowers , and its essence perfectly reflects the sweetness of the delicacy . Let yourself be enveloped in the wonderful notes of vanilla and hibiscus !
Forest Gateau
This is a composition that pays homage to the beloved Swiss cake! This pink tea with a floral aroma was composed in such a way as to recreate each layer of delicious baking . With each subsequent sip you will discover new flavors that together constitute a masterpiece !
Get yourself a unique gift that will make you feel like a member of the royal family! Discover the unique combinations of tea flavors with wonderfully sweet additions and enjoy these experiences in the company of your loved ones. The Basilur Pink Tea collection will surely cast its spell on you and enchant you.
Break away from the classic flavors of infusions for a moment and try some crazy variations!