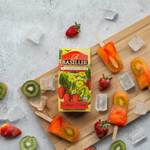 What are the best iced teas?
Summer has finally arrived! However, sunny skies and rising temperatures not only affect our well-being. They also provide important benefits to our health and well-being . The sun's rays help regulate almost all processes in our body and also act as psychological support to improve our lifestyle. At Basilur, we strive to provide the best tea , regardless of your mood or season. Every tea lover knows that summer cannot be complete without a good iced tea . Here's our guide to the best Basilur tea blends that will work as a base for homemade ice tea .
Basilur Mango & Pineapple black tea.
It happens that for various reasons we cannot enjoy exotic holidays in the tropics. We have a solution for this. A dream tropical summer enclosed in dried tea ! This bestseller from the Basilur Magic Fruits collection is the perfect combination of Ceylon black tea, pineapple and mango . Basilur Mango & Pineapple will taste delicious both in the refreshing frozen version and the warming, classic hot brewed version . In addition to its fruity flavors, this blend also provides valuable health benefits . Research shows that mango is rich in antioxidants , helps increase immunity , improves digestive functions and improves the condition of skin and hair . Pineapple is also full of antioxidants , helps suppress inflammation , aids digestion , and is rich in nutrients such as vitamin C , vitamin B , potassium , magnesium , and fiber .
Basilur Lemon & Lime black tea
Classic lemon iced tea with a modern twist . Basilur lemon-lime black tea is a citrus lover's dream. It gives an infusion with a sour taste and a refreshing aroma . It is perfect as a healthy alternative to store-bought citrus drinks . Basilur Lemon & Lime tea is rich in natural ingredients that guarantee full flavor and aroma until the last sip. For even greater refreshment, you can add mint leaves to the infusion. In addition to their refreshing citrus flavors, lemon and lime are also rich in many health-promoting ingredients. They effectively hydrate the body , are an excellent source of vitamin C , support weight loss , improve skin health , support digestion and freshen breath . Now you can complement your summer with an infusion that is beneficial for your body and palate.
Basilur Strawberry & Kiwi black tea
One of our favorite teas from the Magic Fruits collection is Basilur Stawberry & Kiwi . This is an excellent Ceylon black tea that combines the sweet and juicy flavors of strawberries with the delicate aroma of kiwi . It can be drunk as a refreshing iced drink or prepared warm . In addition to their sweet and refreshing taste, strawberries also contain a large amount of water , protein , fiber and sugar . They have been proven to improve heart function and blood sugar regulation. Kiwi is beneficial in the treatment of asthma , prevents morning sickness , regulates blood pressure , protects against vision loss and supports digestion .
Basilur Blood Orange fruit tea
Fruit teas from the Fruit Infusions collection are a unique combination of natural fruits and herbs . They do not contain caffeine ! They can be drunk by children , pregnant women and breastfeeding mothers . Basilur Blood Orange infusion is a truly summer combination that can be enjoyed cold with ice cubes or in the classic hot version. Once brewed, the tea has a warm red color and a sweet and sour flavor that suits everyone's palate. The fruits in the mixture are a source of antioxidants . In addition, they are rich in vitamin C , provide microelements that are beneficial for the skin and support weight loss .
We wish you a wonderful summer full of joy, warmth and good flavors!