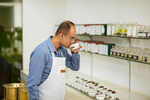 How is Basilur tea obtained?
The exquisite and unique taste of Basilur products is due to the high-quality Ceylon tea , which is gaining a reputation as the purest tea in the world. This is due to strict compliance with EU and ISO standards, where all pesticide levels are kept at a minimum. In addition, Ceylon teas are 100% hand-picked , a tradition perfected over the centuries. Thanks to this, only the best leaves are collected from the plants. Moreover, Ceylon tea gains its quality and richness of flavors thanks to the diversity of landscapes from which it comes. Therefore, at Basilur, we source tea from various areas of Sri Lanka such as Nuwara Eliya , Dimbula , Radella , Uva , Kandy and Ruhuna .
Tea bushes in Sri Lanka are distinguished by their resistance to weather changes , various soil conditions and variable height . Depending on the conditions in which the bushes grow and the harvest time, the resulting tea varies in taste . These differences are masterfully captured by our experienced tea tasters , helping them pay attention to the fine details of flavor and develop a consistent product.
What is the key to getting the best tasting Ceylon tea?
We believe that the taste of our tea depends on its freshness . Therefore, we make every effort to ensure that the time from picking fresh leaves to packing them into the final packaging is as short as possible. Direct cooperation with producers allows us to better understand the unique aspects of tea cultivation and use this knowledge in the production process. We also build lasting relationships with both foreign and local suppliers who enable us to create the best tea in the world .
Why is Basilur tea the best?
At Basilur, we maintain a highly selective tea sourcing process by tasting thousands of samples and selecting only the best . The tea will reach your cup only if it meets our strict quality standards in terms of color , aroma and taste . Therefore, we can say with certainty that the Basilur tea you can taste is the best tea of ​​its kind . We are always looking for the best teas to offer and we don't settle for anything less than the best!