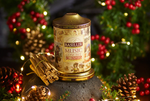 Is tea the perfect gift for the holidays?
As winter and Christmas approaches and the festive spirit is in the air, we at Basilur begin the season of giving ! Drinking tea is a great way to treat yourself, so why not turn it into a holiday ceremony ? Our offer includes a wide range of the best Ceylon teas , the taste of which is immediately associated with winter and holidays.
Here are our picks for winter teas that will be perfect as a Christmas gift!

Black loose leaf tea - Basilur Present Gold
One of the most famous and cultivated traditions during the holidays is giving gifts . This tradition has its roots in the story of the Nativity, during which the Three Wise Men gave gold, frankincense and myrrh to the baby Jesus. Referring to the symbolism of gifts , we have created tea packed in a unique tin - Basilur Present Gold .
Enjoy the delicious taste of selected Ceylon black tea leaves with the addition of blue mallow , jasmine buds , coconut flakes and the aroma of roasted almonds and cherries . The packaging in the form of a metal, golden tin , which looks like a charming gift , is a perfect gift idea for every tea lover .
Tea Set – Vintage Style Assorted
Red and green are definitely the colors of Christmas! That's why our Vintage Style collection is packed in beautiful packaging in Christmas colors , decorated with charming retro graphics . Basilur Vintage Style Assorted is an exceptionally well-composed set of black and green Ceylon teas with aromatic additives . Specially created to bring out the joy , love and spirit of Christmas that brings friends and family together. This is definitely a gift that will always be a hit.
Tea in positive - Christmas Music Concert
Music is one of the most important elements of Christmas . There is nothing better than the power of music that evokes the depth of human emotions . What could be better than combining a perfect cup of Ceylon tea with the Christmas note flowing from a charming music box ? On a cool white night, enjoy winter relaxation and the warmth of winter tea at the Basilur Music Concert Christmas specially prepared for you. Taste the highest quality black leaf tea with the aromatic addition of pineapple , ginger , cornflower , blue mallow and the natural aroma of apple and orange .
A book full of tea - Tea Book Volume V
There is nothing cozier than enjoying a cup of hot Christmas tea and your favorite book on a winter night. If you love the festive taste of marzipan , Basilur Tea Book Volume V is the perfect infusion for you! The highest quality pure black Ceylon loose leaf tea infused with vanilla and almonds with the natural addition of goji berries and safflower is a real feast for the eyes and palate . A tea that is perfect as an addition to sweet Christmas delicacies. Enjoy every sip and get into the holiday spirit .
Winter Tea - Frosty Night
Christmas is, above all, about spending time with loved ones . This is the season to spend some time with the people who matter most to you . Whether it's catching up on the past year or having a fun family chat on a frosty night, nothing brings everyone together like a warm cup of Ceylon tea ! Celebrate this magical time of year when time seems to pass slower and more peacefully. Basilur Frosty Night is a combination of black Ceylon tea leaves with the natural addition of barberry , rosehip and vanilla . This aromatic combination will keep you warm throughout the cold winter.
Christmas is always a special time, it's definitely our favorite holiday.
We wish everyone a Merry, Healthy, Safe and Joyful Christmas this year! If you want to make your loved ones happy this season, surprise them with the Basilur Christmas collection!
Happy Christmas!