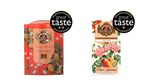 Basilur Tea is extremely proud to announce that two of our unique blends have won the Great Taste Award . Third year in a row! Our highly qualified team works tirelessly to create unique tea blends for you. We are thrilled to add this award to our growing list of accolades!
This prestigious award is available to any company from any country in the world. Therefore, getting it is a true testimony that Basilur Tea is one of the most loved brands. These awards are granted by over 800 professionals who analyze 10,000-12,000 products each year based on many criteria to select the best in each food and beverage category.
Which Basilur teas have received awards?
Vintage Blossoms - Citrus Bliss
Citrus Bliss from the Vintage Blossoms collection appeared on the international market only a few months ago, and it has already been hailed by the jurors as an exceptionally captivating blend in taste and smell . Drought consists of: black tea leaves, chamomile and tangerine aroma. The judges appreciated the combination of deep and classic notes with citrus accents.
Fruit Infusions - Wild Rose
Wild Rose is a tea that is a unique combination of floral and fruity notes. It perfectly combines accents of hibiscus , rose and stevia with orange and lemon , as well as the sweetness of apple . The jurors appreciated the subtle taste of the infusion , with refreshing citrus notes.