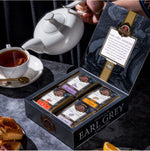 It is with great pleasure that we are honored to announce that Basilur Tea continues its journey as a leading tea brand . Well, we are introducing an innovative set of Ceylon Earl Gray infusions to the market. Our tea experts worked tirelessly , testing and researching hundreds of different flavor combinations to select the four best blends . You will find there not only the classic combination of notes of black tea with bergamot , but also lavender, orange, mandarin and jasmine. These unusual blends will provide you with refreshing and unforgettable taste experiences . The Earl Gray infusion set is the perfect choice for both tea parties and relaxing evenings at home with a cup of drink . Thanks to unique additions , teas from this set can be used as an ingredient in many culinary recipes !
Earl Gray teas are one of the most popular and recognizable blends in the world. The global Earl Gray market reached as much as 6.5 million tons in 2020 with a projected CAGR of 3.5% in 2022-2027. This tea has been distinguished for its numerous health benefits - from the effect on the heart to the proper functioning of the digestive system
What makes Earl Gray teas unique?
What really makes the Earl Gray blend unique is the combination of black tea and bergamot flavors . These citrus fruits are grown in Calabria, Italy, and in parts of France. They look like a cross between an orange and a lime, while their taste is associated with a combination of lemon and grapefruit. The bergamot tree is commonly believed to be a hybrid of an orange tree native to Seville and a lemon tree from Southeast Asia. Strong and citrus accents make Earl Gray the perfect tea to start and end the day. It is associated with members of the British royal family, which is why it is the basis for many important events.
What are Earl Gray blends made of?
Traditionally , Earl Gray was made from black teas such as Chinese Keemum, so they were not drunk with milk. However, after some time, the base was changed and stronger mixtures were used that go perfectly with milk and cream . The Basilur Earl Gray collection consists of 100% pure Ceylon teas and natural flavors . Only the freshest teas are used in the production process, which provide the characteristics of Premium Ceylon blends.
Earl Gray in cooking recipes?
Another unique feature of Earl Gray tea is that it can be used as an ingredient in cooking recipes . Most often , they are added to various types of cakes and confectionery products, such as chocolates and icings. In the case of icings, the flavor is given by adding brewed tea to the mixture. As for loose leaf teas, dried tea is often added to melted butter or hot cream and left to steep to extract the flavor from the plant.
The latest collection of Earl Gray teas from Basilur will provide you with extraordinary experiences , thanks to the combination of classic flavors with four innovative accents!
The set comes in two versions :
In a package of 20 sachets , packed separately in decorative envelopes.
In a box with 40 sachets packed separately in decorative envelopes.