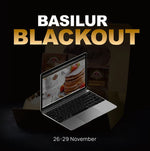 What do you need to know about Black Friday in Basilura? – 2021
This year, Basilur is organizing a unique Black Friday sale ! Here's a guide to everything you need to know about shopping while you're there.
When is Black Friday?
Our Black Friday sale runs from November 26 to 29, 2021.
But there's a small catch . What makes this sale unique are the Blackouts . During the sale , the basilur.com website will be disabled by default. During a supply interruption, you will not be able to make a purchase or complete a transaction. However, between November 26 and 29 there will be short moments when the "lights will turn on" - the website will be available. During these time slots you will be able to add products to your cart and complete your purchase . Every time the lights come on, various discounts of up to 35% will be up for grabs .
These lights will only be on for a limited time , so be quick. Make sure your notifications are turned on to ensure you don't miss a session!
*Tip*: We will be launching some brand new product collections with #BasilurBlackOut, so keep an eye out for them!
How much will the discounts be?
If you manage to place an order before the website closes, you will be able to enjoy discounts of up to 35% !
How can you find out when a website is up?
Each time a sale is posted on the site , we'll send you an email notification and push notification . Don't forget to sign up for notifications.
You can also add the event to your calendar to make sure you don't miss anything.
What's the best way to plan your shopping?
One of the top tips we have for you to maximize your Black Friday shopping experience is to be prepared. The best way is to make a list of products in advance so that you can quickly add products to your cart and make a purchase before the website goes down.
Because we have hundreds of products on our website , one of the easiest ways to navigate our website is to shop by collection . The sale includes collections;
Four Seasons
Island of Tea
Oriental
Present
Fruit Infusions
Tea Boulevard
Music Concert
Tea Books
Christmas & New Year
Magic Fruits
Specialty Classics
It's also worth noting that most Basilur products come in different varieties and packaging . For example; Wild Strawberry tea from the Magic Fruits collection is available in the form of loose leaf tea and tea bags .
So , deciding which product variety you want can also help you save a few precious minutes while shopping.
Is Black Friday an opportunity to buy gifts?
In addition to stocking up on tea for your own needs, this sale is also a great way to find deals on holiday gifts . At Basilur, we have collections that have been specially designed for this type of occasion , to help you choose a valuable and meaningful gift for your loved ones.
Check out our gift collections.
Happy and successful shopping!