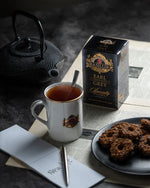 Which 4 Basilur teas were awarded at Great Taste 2020?
Creating unique blends and bringing the world the best Ceylon teas is at the heart of everything we do at Basilur . Through these efforts , we have gained recognition for our efforts to create authentic tea drinking experiences for tea lovers around the world . To this end , we would like to humbly share the news that 4 Basilur blends have been recognized in the Great Taste Awards organized by the Guild of Fine Food (GFF) .
What is the Great Taste Awards competition?
The Great Taste Award is an annual event organized to recognize and reward the most unique entries in the food industry around the world. Since its inception in 1988 , the Great Taste Award has been organized and awarded by the Guild of Fine Food ( GFF ) , run by the family of its original patron , Bob Farrand . The most important thing about the Great Taste Awards is that it is open to any brand from any country in the world. Therefore, this distinction is a true testimony of the brand being the best of the best ! The award's credibility is enhanced by the fact that it is based on the evaluations of over 800 professionals who analyze 10,000-12,000 products annually based on multiple criteria to identify the top players in each food and beverage category.
Which Basilur blends were featured?
English Breakfast
Basilur English Breakfast is one of our bestsellers at home and abroad . It is the basis of every tea collection with an aromatic, crisp and malty profile . We create this classic blend with pure black Ceylon tea harvested from high regions such as Dimbula and Nuwaraeliya , where weather conditions create the ideal environment for growing tea. This provides the rich flavors that English Breakfast requires.
English Breakfast tea with a little milk and sugar is the perfect addition to your breakfast . It will also allow you to experience a hearty English meal from the glorious Victorian era . In addition to the award-winning teas in bags, this product is also available in loose 100 g cans.
Earl Grey

Earl Gray is a favorite of tea connoisseurs around the world. Light flavor notes compared to its big sister English Breakfast make this blend a great afternoon tea . Basilur Earl Gray blend is made from teas from lower regions , such as Rathnapura, which have lighter flavor profiles . These subtle flavors together with the citrus aromas of bergamot oil create an excellent infusion. This complex flavor profile also means it doesn't necessarily require an additional dairy element . You can enjoy this product in tea bags or in 100g tins with loose leaves.
Autumn Tea
Basilur Autumn Tea is a perfect reflection of our efforts to diversify your cup of tea by creating unique blends that evoke the regional flavors of different seasons . This blend also aligns with our goal to help you create associations between your favorite memories and a cup of tea. This is due to the introduction of memorable flavors and scents to our mixtures . It is a blend infused with the famous fall flavors of maple with the finest Ceylon black tea for a smooth , silky flavor and calming aroma . As the leaves turn earthy shades of red and yellow, the cool breeze around us cheers up the special blend of autumn in a cup. In addition to bags, this product is also available as loose leaf tea in our 100 g tin containers .
Cream Fantasy
Another blend that beautifully illustrates Basilur's desire to combine the flavors of fruit and flowers with the best Ceylon tea. Basilur Cream Fantasy is a delightful mixture of pure Ceylon green tea with strawberry enriched with creamy flavors . This particular blend provides an aromatic and light flavor profile , creating a romantic experience . You can try this product in our 100g bulk containers .
We believe that providing a wide range of flavors blended with pure Ceylon tea is the best way to create an authentic tea experience for tea lovers around the world. We are extremely grateful to the Guild of Fine Food ( GFF ) for recognizing our efforts to rediscover the global tea industry.