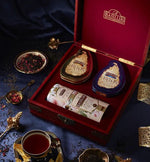 Why is it worth giving your loved ones a set of teas?
Christina Re once said, " A cup of tea is an excuse to share great thoughts with great minds ." The fact that the infusion helps build bonds makes it an ideal gift idea - either for loved ones or co-workers . While a single box of tea can help build a connection with another person , an entire set can deepen it even further . It does not matter whether you are giving someone a gift on a specific holiday or you do it spontaneously , giving a set of teas will help you express your care and sympathy .
What are the advantages of the variety of tea flavors in the sets?
Sets usually contain from several to a dozen types of tea . This means you can choose different varieties of infusion depending on your mood or time of day . It's also a great way to step outside your comfort zone and try new flavors . Not to mention the fact that introducing a loved one to a variety of flavors can be a springboard for them, thanks to which they will learn new , non-obvious combinations that will appeal to their palate.
Is tea healthy for the body?
Tea is often considered a health drink that has tons of benefits . It is able to free you from the constant tension accompanying the fast pace of life . A number of studies have shown that tea helps reduce the level of cortisol - the stress hormone - in our body. Regardless of whether you drink the infusion alone or in the presence of friends and family , its effect is the same - it has a very calming effect . So we think Letitia Baldrige was right when she said, " Tea is a chance to slow down, stop and appreciate your surroundings ."
Can you learn about foreign cultures through tea?
Tea sets are a great way to travel around the world, and it becomes possible with a sip of the infusion. For this purpose, it is best to choose compositions that present collections of unique , traditional essences from cultures from different parts of the world . For example , the Basilur Oriental Collection, inspired by the Orient , helps you create a beautiful expression of culture , history and tradition with a cup of tea . From the aroma of Masala Chai spices from India to the minty, fresh flavors of Moroccan Mint , tea has the power to provide you and those around you with a world-class experience . Let your adventurous loved ones learn about ancient tea traditions around the world by giving the gift of a set containing a mix of foreign cultures .
Is it rewarding to give a set of teas?
A gift is a beautiful way to share emotions or show gratitude to someone. Giving gifts brings joy to both the giver and the recipient because it strengthens the bond . A set of teas will be an amazing surprise for your loved ones who want to try different flavors and will certainly be grateful for such a gift!
Tea sets make great gifts because they can make the people who receive them happy . This means that every time they start preparing a cup of tea , they will fondly remember the gesture you made by giving them a thoughtful gift .